FRIENDS OF THE SECOND CREEK, INC.
This site has been replaced
Please find us on the web at www.friendsofthesecondcreek.com
Shown above is the beautiful painting by Robert E. Tuckwiller of Hoke's Mill Bridge over Second Creek. Limited edition prints are available by checking our What-not Shop page on this web site.
QUARTERLY BOARD OF DIRECTORS MEETINGS; MEETINGS ARE NORMALLY ON THE 4TH SUNDAY BUT THE NEXT MEETING WILL BE ON JANUARY 15TH, 2012 AT THE REED/HOKE HOUSE (BAD WEATHER DATE WILL BE JANUARY 22ND). ALL ARE 2:00 TO 4:00 P.M. EXCEPT FOR THE JULY MEETING WHEN WE USUALLY HAVE A COVERED DISH GET TO GETHER LATER IN THE DAY AND USUALLY AT A DIFFERENT COMMUNITY LOCATION EACH YEAR.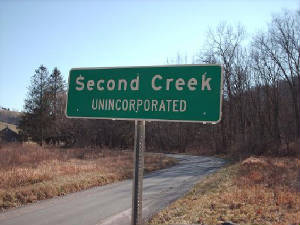 We are sad to report that someone hacksawed this sign and took it away support and all and there is no interest from the DOT to replace it.
Friends of THE Second Creek, Inc is now listed with the IRS as a 501(c)(3) nonprofit organization. We can now accept tax exempt donations. If you would like to make a donation toward any or all of the projects we are pursuing we would be very happy to issue you a letter so you can take it off of your income taxes.
SECOND CREEK
Why the name you may ask?
Well let's speculate on that subject. Most of the original settlers in Eastern Monroe County arrived via the Eastern shore of Virginia then westward through the Blue Ridge Mountains and on into the Allegheny region that is now known as West Virginia.
Their trek took them along the James River to the Jackson River then up through the notch in the mountains just west of Jerry's Run. These settlers were following what was the Midland Trail and later the James River/Kanawha Turnpike. Dropping down into the new country they first encountered Howard's Creek which takes them to the Greenbrier River. After leaving the Midland Trail and heading westward, in the general direction of the Seneca Trail, the second major water course they would encounter, either overland or by the river will be,------well-----,Second Creek. One has to assume that due to fatigue and stress of the long trek their imagination had fallen by the way side. So Second Creek it is and will remain.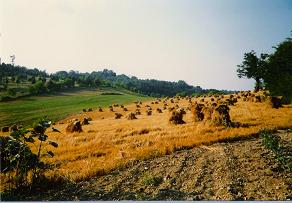 The limestone rich land of the Second Creek watershed provided a wonderful place for the early settlers to put down roots and raise a family.